Hard to believe that today is the unofficial "last day of summer". I'm not complaining though since Fall is my favorite season. The reason could be that the weather is not too hot and there are so many cute clothes to wear. That being said, here are some of the clothes and boots that I am wanting to get this fall
This
Sienna Swing Tunic Dress
from
Show Me Your MuMu
is what comes to mind when I think Fall: earth tones. I have always seen Fall as a season to experiment a bit or maybe that's just me. A dress like this is awesome because you can wear it until at least the beginning of spring when there's still a chill out. I also love the
white
&
black
.
These boots!!! I have been debating whether or not to by these
Dolce Vita
Opal OTK boots for the last 2 weeks.
Nordstrom Rack
has them for almost half of the retail value. The brown ones are sold out but they still have the black, my size, & it's the only pair left). Dolce Vita &
Nordstrom Rack
both have a great selection of OTK boots right now. Just a heads up though: Dolce Vita's boots are a little on the higher end but I think its worth it if you're like me and wear boots year-round. Yes, I was that girl this summer wearing boots with sundress and shorts.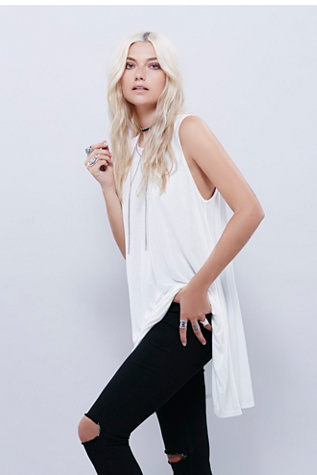 A
Tunic
like this I would wear with jeans like in the picture or as a dress paired with a jacket.
I own some other Free People tanks and tops that I love because of the flow of them.
Another item that I have been debating about is this dress from
Blue Life
on
Planet Blue
. Like boots, I wear dresses like this year-round. This is the perfect Fall dress to me because its lightweight and can be dressed up or down.
I would wear these
boots
with everything this fall but sadly, they don't have my size. These two
shades of brown are perfect to wear with everything to me. They aren't too light but they aren't super dark either.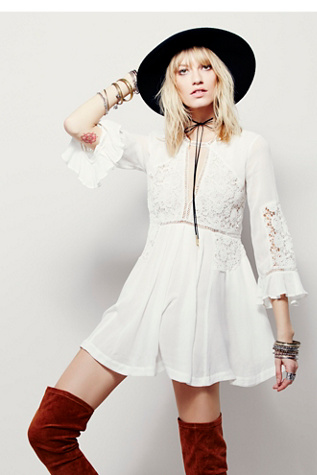 I love lace in the Fall and Winter. I have no idea where I would wear this
dress
, but I'm sure I could find somewhere. Thinking with sneakers or boots.....
If you haven't noticed yet many of the items are things that I would wear year-round or at least three out of the four seasons. At this point, I invest in items that I love that I can transition from season to season instead of "fast fashion" item. What's some items on your fall wish list??
Peace and Blessing!!!